Steve Grocott
Training in making music with children aged birth to 7 – particularly in boosting the confidence of non-specialists.
"An inspirational teacher" T.E.S.
Steve spends half his time as a music teacher and trainer in the Early Years and the rest as a composer and performer. His appearances include television, radio and concert venues throughout the country. He has written and recorded many songs for the A&C Black music books and given music courses for The Institute of Education, The National Childminders Association, Early Education (BAECE) and many different boroughs. Both non specialist practitioners and competent musicians have attended his courses and observed him working in settings and found the material, which is all provided on CD/booklets, easy to use and inspiring. Many come back for more.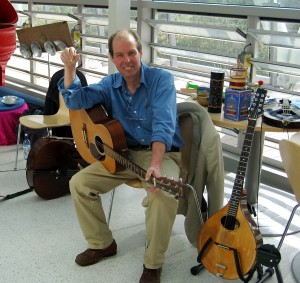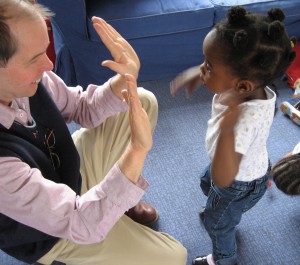 Courses are designed to cover all aspects of music making with children and to highlight the connections with all areas of children's' development with particular reference to language acquisition, phonics, maths and PSED. Courses can be combined with visits to settings for work with children and parents.
Appreciation for Steve's courses
Great to be so practical and to have a CD to actually remember the songs
Nursery Teacher
Exactly the kind of course that is worthwhile! Practical, entertaining and good supporting materials.
Primary Teacher
I was feeling nervous when I came but now I am looking forward to having a music session with the children.
Nursery Nurse
The CD is brilliant!
Music teacher
Visits to settings, Inset and provision of CDs can be organised in any combination to meet your particular needs and are guaranteed to:
Boost your ability and confidence in all your music making
Give you a new repertoire of songs and musical skills for use with your children
Show how music can be used to help with all aspects of children's' development, physical, personal and social
Teach you practical activities for language acquisition, Letters and Sounds Phase One and building mathematical skills
Help with the use of rhythm and instruments in music sessions
Be a great deal of purposeful fun.
You can contact Steve at steve.grocott@btinternet.com and find more information at  www.dronesmusic.net – Steve Grocott's pages.
Telephone 020 8852 2865
Mobile 07952465 978