Trevor Stevens: Fishy Music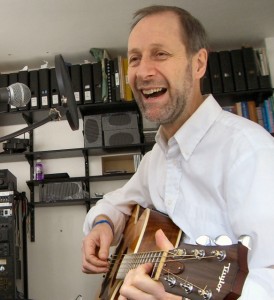 Fishy Music is a record label and recording studio, making Bible story CDs for young children and children with special needs.
Fishy Music was founded in 1999 by Trevor Stevens, who has worked as a session musician in some of London's most prestigious studios, including the legendary Abbey Road and also spent 20 years as a psychologist and trainer in special schools.
As a musician Trevor has played the Albert Hall, the Wembley Arena and of course, the Henley Festival (with Michael reading the stories!).
Fishy Music CDs include:
Five Little Fingers from the popular collective worship series
And So To Sleep, the ultimate relaxation album
The Christmas Story, a complete Christmas production which comes with a book and sign language DVD for special schools.
Fishy have also produced Bible story CDs, with Michael reading "Mr Noah and the Ark" and "The Story of Creation" and if you want to hear Michael's animated reading of the creation story, you can get a free download of the whole CD on our website.
Trevor Stevens
Fishy Music
Tel: 01865-340003
Email: trevor@fishymusic.co.uk
Twitter: @FishyMusic
www.fishymusic.co.uk