In praise of adults working with babies and toddlers, with help from Joni Mitchell, Graham Nash and Lisa Hannigan
Date posted: Wednesday 3rd July 2013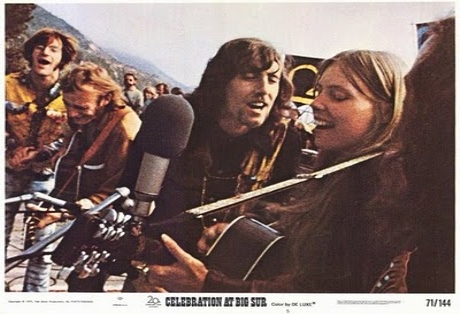 Willy is my child, he is my father
I would be his lady all my life.
And I feel like I'm just being born
Like a shiny light breaking in a storm
There are so many reasons why I love him.
Willy, by Joni Mitchell, from her album Blue
I've come in for a bit of flack since my last post, when I dared to make a mild criticism of Joni Mitchell. I should have known better, so I hope to make amends right now. Unfortunately, I'm no stranger to the odd brick bat being tossed in my direction, and this is only a light ticking off compared to my 'Altamont experience', which is the subject of my next post.
When I was 17 I became involved in a very serious relationship with possibly the biggest Joni Mitchell fan in the world. I guess the attraction started when she told me her favourite song was called Willy. It's a great song, and it's the nickname Joni gave to her then lover Graham Nash. Now at that time I knew nothing about relationships, but even I could tell that Joni and Graham were going to have problems. If she really saw him as her child and father, then I could imagine our Graham waking up in the morning and not knowing how to behave: "Should I mess about with a comforter in my mouth, or tell Joni to behave herself, finish her breakfast and get in the car, otherwise we will be late for school?" After a few years, Joni and Graham parted company. His story is that he proposed marriage, but Joni couldn't accept the restrictions this would put on her artistic creativity. Joni hints at different tensions in her song. You mustn't take sides in these situations, and it's a shame things didn't work out, but I guess we should be grateful, as much of Joni's classic Blue album is reflecting on the breakup.
I asked my girlfriend if she would like to call me Willy, to which she replied, "We'll see."*
I was reminded of the need for consistency of adult behaviour when I visited the Rainbow Centre at RAF Marham, in Norfolk. I was there leading a Maths and Language Day, with colleagues Judith Twani and Steve Grocott. It was great fun from start to finish. When I visit nurseries, I always like to start in the baby rooms and spend as much time as possible sharing ideas and finding out what works. What works is that the adults need to be 100% loving and responsive to those babies all day long. They need to know the babies inside out, and to know very quickly whether little Archie is crying because he's missing mummy, is hungry or thirsty, is a bit hot or cold, a bit tired or wet or messy, or maybe a bit poorly? After all, these little ones can't tell you with words how they feel, so the adults need to be 100% tuned in all day long: a day often being from 7.30am to 6.30pm. It's a huge ask, but it's what happens in baby rooms all over the UK. I am in awe of these people.
One of the activities I led was called The Baby Experience. As I was getting involved with six babies, eight children and two adults, I realised that I am totally inconsistent in my behaviour. I started off loving and responsive, but in no time at all was crabby and stressed out. I made the mistake of asking the children to choose a baby each and then change, feed and bath them. Did I mention that the babies were realistic plastic newborn dolls? My aim was to introduce the concept of each, as in 'Each baby needs a nappy, and a change of clothes, and a muslin cloth, and lots of baby wipes; and each baby will need a bottle full of milk and then you can choose whether your baby likes organic baby porridge or chunky vegetable broth, and then what dessert shall we choose? Let's mix up some porridge: it says on the packet you need three spoonsful of powder and one of warm water (or is it the other way round?) and to mix it up to make sure it's not lumpy. And finally how are we going to fit all six babies in the bath together?'
This activity was the funniest thing. I was in role, as the leader of a parenting class, and the children responded in kind. To them the babies were real, and they were behaving like real parents: after all we had real clothes and nappies and milk and food! They thought it was funny to tell me that just when we had finished changing baby ('My baby doesn't like blue clothes, she like purple') and we were giving him his first solid food ('My baby doesn't want a pink bowl: he wants the Fireman Sam one') that there was a terrible smell coming from baby's nappy ('My baby can't wait: he needs to be changed right now'). This is when I started to get a bit 'fraught' and 'hot under the collar'. I would have loved to have been 100% loving and gentle, but the children could tell that I was getting 'overwrought'. They could also tell that I was only acting.
Luckily I had another adult helping me, and this is where the language and maths aspect of the activity really started to kick in. Because there were two of us, and sometimes three, then I could be the bossy manager of the group, while the other adults were able to have deep chats with individuals or pairs of children. There were some great conversations going on: about whether we can share our baby with another child: about whether baby's clothes fit or not; about how many baby wipes we have used to get baby cleaned up: about the diagram on the porridge packet, showing three spoonsful; about what baby needs to do next; about how much baby lotion we can get on the end of our finger so you can make baby's skin nice and moist (the answer is a dollop); and about what time baby needs to go to bed.
Most importantly, we all had a great laugh, and the children – boys and girls- enjoyed talking together in meaningful role play. After 90 minutes I was shattered: and these were only plastic dollies! Being a parent of very young children can be a real stress, especially when you have more than one, and it can be very difficult, if well-nigh impossible to be calm and giving all day long. However, knowing that your baby is being well-cared for while you are at work, with adults who are doing their best to get to know and care for her, is going to provide baby with the best start in life possible.
If, like me, you lie awake sometimes in the wee small hours and worry about life; e.g. whether eating more than six Brazil nuts a day will cause you health problems, or if two bananas a day will give you too much potassium, or who is the greatest female singer out of Joni, Aretha or Eva Cassidy, or, more importantly, whether anyone could possibly do a cover version of Willy and really get it right, then check out Lisa Hannigan on You Tube. When she sings 'I feel like I'm just being born', you really feel as if this is the happiest thing in the world for her.
I'm a huge Joni Mitchell fan (honest) but I'm also a big fan of Lisa Hannigan. Watch Lisa Hannigan and friends on YouTube performing I Don't Know at Dick Mac's Pub in Dingle. Possibly the wackiest and most fun music video of recent times?
* She didn't. She called me Mickey Monkey instead. The relationship ended when she dumped me in favour of a guy who she did call Willy.
Lisa Hannigan singing Willy, by Joni Mitchell
https://www.youtube.com/watch?v=j4xoxFrRA2Q
Sign up for Michael's weekly blog post by clicking here!
Share this post!
5 responses to "In praise of adults working with babies and toddlers, with help from Joni Mitchell, Graham Nash and Lisa Hannigan"