May you stay forever young: or how time, like trains, keeps on moving. With help from Ming Tea, The Seekers, Johnny Cash and Chuck Berry!
Date posted: Saturday 15th February 2014
May you grow up to be righteous,
May you grow up to be true,
May you always know the truth,
And see the lights surrounding you.
May you always be courageous,
Stand upright and be strong,
May you stay forever young
Forever Young by Bob Dylan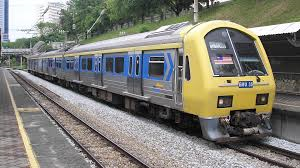 I like trains. Not in a 'let's stand at the end of a platform and write down the train numbers and models in a little book' kind of way. I like them in 'a waiting for the train, watching it pull into the platform and seeing the people getting out, finally getting on myself, stowing the luggage safely, taking out the new Robert Harris novel I've just bought in WH Smith (buy one, get one half price), watching the suburbs gradually pass by (noting how even the smartest people wantonly chuck rubbish over their back garden fence onto the railway embankment), observing the rolling hills flash by, and finally dozing off and dribbling out of a corner of my mouth, with the sound of incomprehensible messages from the driver about apologies for delays and reminding passengers of the wide selection of outrageously-priced sandwiches in the buffet car drifting into my subconscious' kind of way.
It all started for me in 1968, when my Mum asked me to take my little brother out for a walk in his pushchair (front facing in those days, so ideal for chatting face to face with the little one). Mum: "You need some fresh air, so why don't you take your brother to the station to look at the trains?" ( In those days, as now, 'Why don't you?' meant, 'You will do it, but I'll make you think you have a choice so you can put up a bit of a struggle, but in the end you will do exactly as I tell you, or else.') So 10 minutes later we were standing on the footbridge at Gidea Park station waiting to be bored out of our heads for half an hour. Watch trains? We might as well watch the traffic passing by on a motorway.
An hour later we had watched five trains arrive and depart, passengers disembark, people running, a lady in a mini skirt and very high heels tripping over and swearing because she had laddered her stockings, a man arguing with a ticket collector because he had 'lost my ticket, I'm sure I had it somewhere, this has never happened before, what do you mean I'm a habitual fare dodger? I've a good mind to write to my MP, alright here's two and six, but I'm warning you that you haven't heard the last of this, you pleb!' I was hooked. Little brother was hooked too.
Every day after that, come rain or shine, (it was the summer holiday so there was a lot of rain throughout the day and a little bit of shine every afternoon), I begged Mum to let me take little brother to the station to see the trains. As we stood there and watched, I thought about time. How is it that the wait for a train (with little brother getting restless and squirming until the signal finally clacks and we know another one 'will be here very soon, so don't panic') seems so much longer than the amount of time that everyone has to rush into the carriages before the station master blows his whistle. And why is the waiting, with the buildup of tension and excitement, sometimes just as exquisite as the moment of arrival? And when it's all over why do you experience in your gut a feeling of emptiness and anticlimax? Not that I could articulate all those impressions then, but had exactly the same feelings 10 years later when I would be waiting at the station to go on a date with my girlfriend. My overriding feeling, with my little brother and later my girlfriend was, 'If only time could stand still. Why can't we be forever in this moment of glorious arrival?'
It was around this time that my parents finally invested in a TV. Top of the Pops was the highlight of the week. This gave us kids the chance to glory in outrageously-dressed and slightly dodgy bands like The Kinks, The Small Faces and The Who. They all seemed a bit dangerous and forbidden, and we hoped that Mum wouldn't pop her head round the living room door, see something slightly 'permissive' and insist we "switch that off right now and why don't you all go and play outside?" One classic TOTP moment sticks in my mind. The Seekers were all the rage in Australia, and their new hit Morningtown Ride was racing up the UK charts. It was all about trains, with lyrics like 'Train whistle blowing/Makes a sleepy noise/Underneath the blankets go all the girls and boys.' The band featured three clean and tidy young men with nice teeth wearing suits and National Health glasses, and was fronted by Judith Durham in a maxi skirt. (Even though our TV was black and white I could tell that her skirt was a horrible beige colour.) We had tuned in to see a new happening band called Ming Tea, with lead singer Austin Powers and incredible lead guitarist Gillian Shagwell. (Even though our TV was black and white, we could tell that her mini skirt was not beige).
Oh behave! A swinging shindig with Ming Tea, featuring frontman Austin Powers and stunning female guitarist Gillian Shagwell (later to reinvent herself as Susanna Hoffs of The Bangles)
In comes Mum, halfway through Ming Tea's fab and groovy act. "How can the BBC show a man with terrible teeth and National Health glasses being smacked on the bottom by a go go dancer in a bikini!? I've a good mind to write to my MP. I've come in to watch The Seekers." So we had to endure The Seekers making trains sound as dreary as wholemeal bread. Mum: "Look at The Seekers. Judith Durham is so much more wholesome. I know the TV is black and white, but I'm sure that skirt she is wearing is nice and beige." (I had misheard wholesome for wholemeal and had to agree with Mum that Judith Durham did make you feel like you'd eaten half a loaf of Hovis. In a bizarre twist that you couldn't make up, Judith Durham was later to be hounded by a stalker in Australia, who used to send her doormats through the post.)
Judith Durham and The Seekers: Wholesome or Hovis?
I had another chance to think about time at the end of the summer holidays, as I sat on the train heading for boarding school in Scotland. How can a seven-hour journey feel like an hour when you are heading away from freedom? We had a new Brother in charge of our dormitory. I think he fancied himself as a bit of a 'progressive', because he used to play us music every night after lights out, to lull us to sleep. His favourites were Tchaikovsky's 1812 Overture, the soundtrack from The Sound of Music, and Johnny Cash Live at Folsom Prison. I didn't know what the word irony meant in those days, but I did feel a bit tortured when I heard the lines I'm stuck in Folsom prison/And time keeps draggin' on/ And that train keeps a-rollin'/Down to San Antone.
Johnny Cash at San Quentin: Time keeps draggin' on…
So here I am, with my four-year-old grandson at a major railway station in London. We've come to stand at the barrier and watch the trains coming in and going out again. The little fella is so transfixed by the massive engines that he doesn't notice the Japanese lady who has slipped and gashed her leg and is receiving first aid, or the two slightly drunk football supporters who are trying to blag their way through the barrier without paying, or an Australian man carrying a doormat. And when my little grandson says, 'I love you Grandad. Can we come and see the trains every day?" I just want time to stand still forever, so that he is always four and I have nothing better to do, other than watch him being happy.
But that would be unfair on him (and the lady getting first aid). So all I can hope for is that he will keep this moment in his heart as he grows up, and that somewhere in that heart he stays forever young.
My, that little country boy can play! Chuck Berry playing Johnny B Goode:
The ultimate train song, by the ultimate rocker on the ultimate music show (but what are the backing band wearing?)
https://www.youtube.com/watch?v=j4xoxFrRA2Q
Sign up for Michael's weekly blog post by clicking here!
Share this post!
2 responses to "May you stay forever young: or how time, like trains, keeps on moving. With help from Ming Tea, The Seekers, Johnny Cash and Chuck Berry!"