Great Balls of Fire! Or fighting off attacks on men caring for children. With help from Tom Jones, Stevie Wonder and 70 men from Atlanta
Date posted: Friday 18th October 2013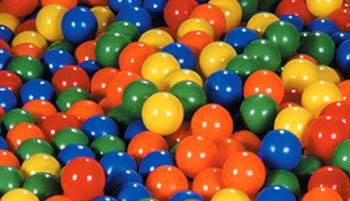 I never thought through love we'd be
Making one as lovely as she
But isn't she lovely made from love
Stevie Wonder Isn't She Lovely
I had a musician friend called Chris who worked for a while in the Irish pub scene in London. One of his regular jobs was playing in the backing band for a much sought after singer, who we shall call 'Big Dan'. Big Dan was often described in his publicity as being 'larger than life'. I think this was supposed to imply that he was a bit of a racy character, even though he was well into his 50s. To me it conjured up an image of a man who chose his trousers from the larger numbers on the clothes rail in Marks and Sparks. Chris confirmed that I was bang on the money about Dan's trousers. But there was more to talk about in Big Dan's trouser department than just needing an elasticated waistband on a pair of size 50 pluses.
Chris confided that Big Dan used to stuff not one but three pairs of socks down the front of his trousers before every gig. (One pair were rugby socks: "It gives me the edge over the opposition."). This came as no surprise to me. I studied at a drama school, so had seen quite a few things in my time. For example, actors wore their jock straps on the outside of their leotards: apparently to avoid chafing during tap dancing classes. I'm now beginning to wonder if it wasn't handier for secreting a leg warmer or two, just to add extra 'body and lift'.
In the late1960's and early 70s, ugly rumours started to emerge about the illicit use of socks throughout show business. Tom Jones, for example, was the focus of a lot speculation, (though fair play to him, women used to chuck items of clothing at him, and even try and grab him while he was doing his thing onstage. So maybe the extra padding was there to protect his assets).
Tom Jones: it's not unusual (or maybe it is)
We always had our suspicions about Mick Jagger, and these were given some credence in Keith Richard's recent autobiography. Keef threw down the gauntlet (or was it a woolly mitten that looked like a sock?) when he suggested that Mick was not as 'large as life' as his tight-fitting trousers suggested. Jagger was furious and made a public denial, which only added fuel to the flames of speculation. But I don't think I am the only one who now wonders about the inspiration for their hit (I can't get no) Satisfaction.
We are led to believe that most men are insecure about whether they can measure up to the huge expectations that are often heaped on them. But it's all a bit of a joke, because we all know that it's how you tackle life's problems that counts, rather than the size of your tackle. At least so I thought, until I read about a piece of research that, quite frankly, beggars belief. Researchers in the US have been looking at the link between the size of a man's testicles and his willingness to care for his very young children. Yes, it's true, and the paper wasn't published on April 1st either. Apparently 70 men in Atlanta Georgia agreed to be measured and then answered a detailed questionnaire about their involvement in caring for their children.
I don't know what's more astonishing- the research findings, the conclusions that the researchers came to, or the details of how and why they measured what they measured. What emerged was that men who take an active role in caring for their children have smaller testicles than those who don't. This wasn't what I was expecting. After all, I was very involved with looking after my children when they were little: but maybe I'm the exception that proves the rule.
The implication of these findings is that men who have above average testosterone levels are more likely to care about fathering children than being caring fathers. This is just nuts. For a start I have been searching the web and I can't see any mention of a link between testosterone production and the size of a man's family jewels. Above average testosterone in men is more likely to show itself in premature balding and profuse body hair than having large cojones. The perfect storm of responses to the BBC News Online report at the end of this post -97 comments in as many minutes- shows the utter confusion in some men's minds about how they stand on this issue. Much of the discussion was about virility and libido. These are not the same things and are not linked to testosterone production. One comment suggests that men who put a lot of effort into caring for their children feel very drained, so have little energy left for pleasure.
I have quite a few questions about this research. Did the researchers stumble across these findings while they were measuring other 'extraneous variables'? Were the researchers volunteers, or did they get paid? How did they find their subjects? Did they go into a crowded bar in downtown Atlanta, shout, 'Oi! Hamster Tackle!' and wait to see who turned round? Will this type of study be replicated in other parts of the world, and how does one get involved?
OK, this all seems very ridiculous, but there is a serious point to be made here. We still live in a world where caring for children is not shared equally between mothers and fathers. However, many men play a very active role in caring for their children. They should be applauded for doing so, and not have their so-called 'masculinity' called into question. We certainly shouldn't be kicking them where it hurts. It is, after all, a very sensitive area for men, irrespective of how they measure up.
In the UK only 2% of the early years workforce are male. The media would do well to highlight ongoing research into why it is important for men to be involved in caring for young children, and how to increase their numbers in the childcare and early years teaching professions. I haven't seen a full account of this research, and have only read rather tongue in cheek media reports. What I do know is that children benefit from being cared for by men and women: as part of the family, in daycare and throughout education. That's the real size of the problem. It also takes balls to be a bit different: particularly if you are a man who is prepared to look after his children in a society, culture or area where this may be judged to be unusual.
And here's the amazing Steve Wonder singing a song inspired by the birth of his daughter.
To read the original BBC News Online report visit http://www.bbc.co.uk/news/health-24016988.
https://www.youtube.com/watch?v=j4xoxFrRA2Q
Sign up for Michael's weekly blog post by clicking here!
Share this post!
6 responses to "Great Balls of Fire! Or fighting off attacks on men caring for children. With help from Tom Jones, Stevie Wonder and 70 men from Atlanta"