All Right Now! Engaging groups of children at storytime and in assembly, with help from Free, Queen and The Wiggles!
Date posted: Saturday 7th September 2013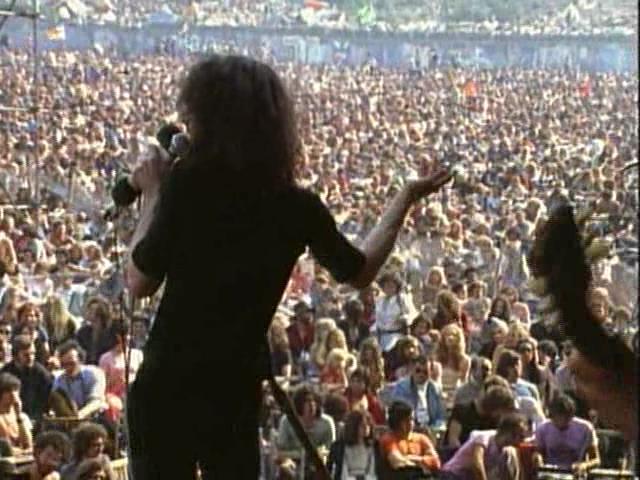 In my early teens I spent a lot of time poring over photos like these and fantasizing. The main part of the fantasy was that I was an outstanding singer and guitarist who was onstage mesmerizing thousands of festival- goers. Each member of the crowd would be utterly enraptured by my stage presence. After the show I would be mobbed by fans, who would all buy my records as soon as they got home.
I never really bothered to take a detailed look at what the fans were doing in the photos, but a close inspection of the shot of Paul Rodgers of Free, at the 1970 Isle of Wight Festival, shows that only about three of the 500,000 crowd were actually paying any attention to the band. Most are talking to the person next to them or looking at somebody else. One guy is intently watching his neighbour roll something on what looks like an LP cover. What's all that about?! If I were Paul Rodgers I'd have stopped the show and said, 'Right, we are not going any further until we have everyone's attention. Everyone sit up straight with your arms folded. And Barry, if I see you rolling a spliff with your neighbour again, I'll make you sit next to your teacher's legs. Year Six, I expect you to set an example to the little ones, etc. etc.'
I imagine that at the moment this photo was taken, Free, whose album Fire and Water was high in the UK charts, must have decided to introduce a new song: and a slow one at that. As a seasoned festival-goer myself, I can tell you that Paul Rodgers and co had made a bad move. To an audience who are sitting uncomfortably and who only know your major hits, that is an instant turn-off, and you are going to have to work very hard to get them back on your side. If you want to get the crowd going, you really need to rock, and play all your well-known tunes. It's the only way to grab everyone's attention and keep it. (They sensibly kept their hit single 'All Right Now' until the end of the set and, as you can see from the You Tube clip, it was a stonker and led to calls for an encore).
Queen knew the golden rules- find out about your audience, rehearse intensively, start with a familiar belter and keep going with plenty of audience participation. They set these principles to work at Live Aid in 1985, and as a result their fabulous set was voted the greatest rock act of the 20th century. Unlike some of the other artists at Live Aid; who were at best rough around the edges (Jagger and Bowie; Dylan, Ronnie Wood and Keith Richards) and at worst disastrous failures (Led Zeppelin, with a totally unrehearsed Phil Collins on drums), Queen had prepared for days at London's Shaw Theatre, and so were totally in control for the entirety of their 20-minute set. They were slick, but were able to be spontaneous and have great fun, and were totally in tune with their audience.
Now from the sublime Queen to the apparently ridiculous: Australia's pop group for the under-fives, The Wiggles. Initially I was very stuffy about Anthony, Murray, Jeff and Greg, with their trusty backing group: featuring Captain Feathersword, The Wiggly Dancers, Dorothy the Dinosaur, Henry the Octopus, and Wags the Dog. I assumed they were a load of out- of- work actors trying to make an easy buck by singing dodgy songs to toddlers. Nothing could be further from the truth. The original band members were all early years student teachers at Macquarie University. They left the course when a song and dance project they were developing became so popular that they found they could make a living out of performing it.
The band really understand their audience (very young children and their parents) and all of their work stems from deeply-held beliefs about early childhood development. They are currently Australia's most successful music entertainment export, and easily filled Madison Square Gardens in New York. True, their early videos now seem a bit amateurish, but recently I've been watching their classic DVD, You Make Me Feel Like Dancing, in the company of three young children. I have to admit that these guys are the Queen for the under 5s. They have written catchy songs for young children and combine them with props and dance routines that are fun and engaging and immediately get stuck in your head. Their live shows start with the big favourites, Rockabye Your Bear and Big Red Car and then take the audience (average age three years old) through a string of hits from their CDs and DVDs. The children who watched the DVDs with me were totally transfixed, and were soon singing new songs and copying the dance routines.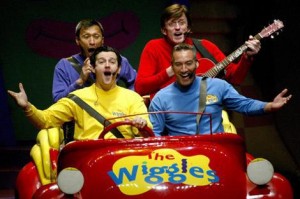 I agree that The Wiggles may not be high culture, but they and acts like them have an important role to play in young children's lives. They encourage singing and dancing, and at the same time promote language development, maths and knowledge and understanding of the world. Many parents I meet seem to be reluctant to sing with their children, and if the children have limited experience and there is reduced interaction within the family, the youngsters often have reduced language development.
It can be quite stressful for these children and their parents to take part in group sessions such as 'stay and play' or story and song times. This is partly due to the children's lack of social development, but also anxiety caused by being faced with unfamiliar songs and activities with new vocabulary involved. More linguistically- able children tend to be more confident when faced with new activities in groups. Because they behave and respond well, their parents can relax and feel more comfortable about joining in themselves. So when I lead a session for parents and children, I always start with a few songs that children and adults know really well, and will spontaneously join in with. These are usually hits from the latest Wiggles DVD, or the 'hello' song from CBeebies' Something Special. This gets the parents going, as well as their children. I'm also well-rehearsed and have plenty of activities for the children and adults to take part in.
I'm not saying I'm the greatest entertainer in the world, but we do have great fun, and parents who usually sit at the back talking with each other suddenly find themselves getting involved, when they see their children responding to familiar songs from home.
Group sessions in early years settings, some school assemblies and even church services, often backfire because the leaders aren't aware of the golden rules:
Be well-prepared (including preparing the space with comfortable seating for children and adults);
Know your songs and stories inside out
Know your audience and find out what they like
Start with a familiar and popular song. If you are introducing a new story or song, make sure that all the children are familiar with the vocabulary and concepts involved
Encourage everyone to participate
It's good to finish with a familiar song too
It is essential to make sure that as many adults as possible are present, and willing to join in, rather than acting as security officers. (If the show is going well, then time will fly and there should be no need for adults to behave like bouncers.)
So whether we are singing with babies, sharing a book with a toddler, leading storytime with a group of three-year-olds, taking Monday morning assembly, or fronting a band in front of 300,000 fans, think of Queen and The Wiggles! Your audience deserve it, they will want you back, and hopefully will do what we all want them to do: have fun and learn! And if you have an album or book to promote, they might invest in that too…
https://www.youtube.com/watch?v=j4xoxFrRA2Q
Sign up for Michael's weekly blog post by clicking here!
Share this post!
6 responses to "All Right Now! Engaging groups of children at storytime and in assembly, with help from Free, Queen and The Wiggles!"