The real 'Fifth Beatle'? On death and dying and saying 'Goodbye'
Date posted: Friday 5th September 2014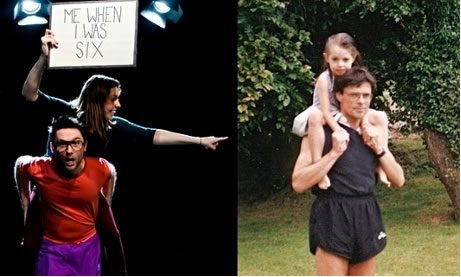 So It Goes: a play about speaking about the unspeakable, without saying anything
In all my posts I try to say something funny about communication and link everything to classic tunes from the 1960s and 70s. However, I'm not one to make jokes about people dying or the grief that is felt by those left behind. And just for once I'm going to use the post to shamelessly advertise someone else's work.
So It Goes is a play that has just finished a sell-out run at the Edinburgh Fringe. I haven't seen it yet, but hope that it comes to London. Then I can experience for myself how Hannah Moss manages to communicate how she felt/feels about her dad, Mike Moss, dying of cancer when Hannah was 17. For many years Hannah had been unable to talk about how she felt, and says that she never actually said 'goodbye' to her dad. Now aged 25, Hannah has created a play with no words, which by all accounts explains beautifully how she felt, how she now feels, and explores the grieving process.
Mike Moss was a primary school teacher with a passion for science. I met him briefly on my final teaching practice, and remember him wearing shorts all day (it was summer). He was totally enthused by sharing science with children, and gave me the best piece of advice: 'The best way to set young children thinking in a scientific way is for the teacher to think out loud, 'I wonder what would happen if we…' This implies that the outcome of an action (e.g. firing a jet of water from a hosepipe at a toy boat in a paddling pool) is uncertain, until we actually do it together. Then the adult and children can talk about what actually happened.
This piece of advice transformed my teaching. Up to that point I had been telling young children why things happened. They were either too young to understand what I was talking about, or couldn't see the point. By saying, 'I wonder what will happen if we…' either as a planned experiment or when children are playing spontaneously, you are also suggesting to the children that you, the adult, are going to stick around and explore with them. Then you can ask the genuine question, 'I wonder why that happened?' Then you wait and listen for the children's explanations.
I have Mike Moss to thank for this small piece of advice, which in a few sentences made me a better teacher. As I was to learn over many years working with children, you can't always put into words what you mean: possibly because you don't have the vocabulary to express what you mean or how you feel. Sue Thomas and Katja O'Neill of Sign 4 Learning are helping children to express their feelings and manage their emotions by linking key vocabulary items with signs from British Sign Language (BSL). For example, I have heard adults tell groups of young children that their behaviour makes the adult feel 'sad'. This might include, 'I feel sad because you are keeping me waiting to tell this story.' This is actually totally incorrect. You might feel sad when someone dies or your girlfriend dumps you or your parents break up… in other words when you feel a terrible loss. But hopefully you won't feel like that when your Reception class are hot and bothered and can't keep still on the carpet because a fly has entered the room and is buzzing round on the window.
It's so much better to be able to use accurate words with children, like 'disappointed' or 'frustrated', and for children to do the same. This is what very young children, who have been involved in Signs 4 Feelings & Behaviour can now do. Through stories and discussion, linked to key vocabulary and using the BSL signs that go with it, adults are able to help children explore their emotions and more accurately describe how they feel.
The Beatles on the roof: where's Mike?
I have several friends who worked with Mike, and they all have a 'Mike Moss story' to tell (all of them affectionate and in some way inspiring). One involved The Beatles. Mike was from Liverpool, and apparently went to the same school as Paul McCartney. This nugget of information got around Year 6, and inspired some of the children to make up a play about how Mike had been invited to join The Beatles, but turned them down because he wanted to be an inspirational science teacher.
Mike may not have joined The Beatles, but in his own way became a legend. And I wonder what will happen when I finally get to see Hannah's play. Will I react like the Evening Standard reviewer, ('I told myself I wouldn't cry – and held firm until the final five minutes'.)
Let's see what happens. Thanks Hannah. I read that the whole process of creating the play has had a huge impact on you. I also read that it has had a huge impact on your audiences.
For more information about So It Goes visit http://www.ontheruntheatre.co.uk/
Take care out there
Michael
https://www.youtube.com/watch?v=j4xoxFrRA2Q
Sign up for Michael's weekly blog post by clicking here!
Share this post!
14 responses to "The real 'Fifth Beatle'? On death and dying and saying 'Goodbye'"