Men behaving properly in traditionally 'female' occupations. With help from Tom Robinson, The Clash and Bruce Springsteen!
Date posted: Monday 18th May 2015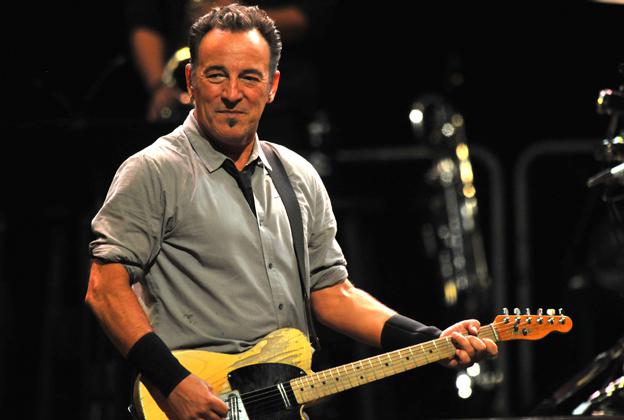 Bruce Springsteen: The Man in Charge?
In spring 1978, 100,000 people marched six miles from Trafalgar Square to Victoria Park in Hackney, to protest against the rising tide of racism in the UK. The march, and the legendary concert afterwards, was organised by Rock Against Racism and the Anti Nazi League. The concert featured The Clash, Buzzcocks, Steel Pulse, X-Ray Spex, The Ruts, Sham 69, Generation X and the Tom Robinson Band. Reggae band Misty In Roots led the march from the back of a lorry during the carnival, though didn't appear on the main stage. One of the main catalysts for the RAR movement was none other than dear old Eric Clapton, who at a gig in Birmingham had harangued his audience with racist language and told his stunned fans that, in his opinion, immigrants were not welcome in the UK. Many bands were horrified at Clapton's attitude, and jumped at the chance to give their support to the cause of anti-racism.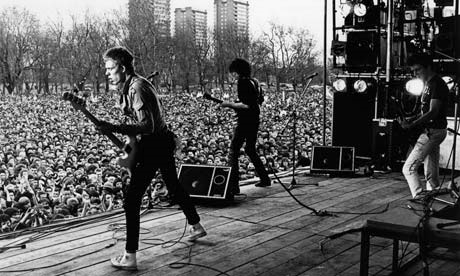 The Clash at Victoria Park, Hackney, Rock Against Racism 1978
In spring 1978, two young women, one of whom later became a colleague of mine, sneaked backstage at the concert and were chasing after Tom Robinson. Why? Because Tom had recently 'come out' and recorded Glad to be Gay. My future colleague (let's call her Jackie), like many people in the UK at the time, was unclear about gender issues, and particularly why people of the same sex might be attracted to each other. Jackie was convinced that if she threw herself at Tom's feet he would fall head over heels in love with her, stop being gay and re-embrace heterosexuality.
Tom Robinson Band; 2-4-6-8 never too late
Unfortunately, in her haste to bring Tom back onto the straight and narrow, Jackie fell over a Rastafarian's foot and landed on her head. (For many years Jackie was convinced that the Rasta had been Bob Marley, and her bruising his foot had been the beginning of the long illness that unfortunately led to his untimely death.) Jackie, if you are reading this, I can put your mind at rest. My extensive research (I looked it up on Wikipedia) has led me to the conclusion that the bloke whose feet you landed at could not have been Bob Marley, but was more likely to have been a member of either Misty in Roots or Steel Pulse. However, after 30 years of being gay, Tom Robinson married a woman and is now raising a family (as well as fronting a show on BBC Radio 6 Music). As they say in the song: 'C'est la vie say the old folks. It goes to show you never can tell.'
And what about The Clash? I've always found them a bit aggressive, but as Woody Allen said, 'No Nazi is ever going to be influenced by a satirical piece on racism in The New York Review of Books, but he will take notice of a baseball bat round the head.'
The Clash at Rock against Racism: swearing a bit, so watch this clip at home.
In Autumn 1978 I arrived at the Central School of Speech and Drama on the first day of a three-year speech and language therapy diploma course. At 9.00am I was the first person in the room set up for enrolment. I was feeling a bit nervous, but full of positive anticipation of a fascinating course and hopefully a career ahead. The head of department popped her head around the door and said (a little nervously, I thought), "Ah, so you are Michael. Can you come and see me at 10.00am?" By 9.59am I was highly nervous and unsure of what to anticipate. There were 29 female students in the room and one of me. I was the only male on the course. I wasn't bothered about that so much, but after the head of department had finished with me, I was wondering what was expected of me.
I had unwittingly enrolled myself into a profession that was, at the time, 99.99% female. Head of Dept offered her commiserations and told me that her door was always open if I needed support. 'Big deal', I thought, 'what has being a man got to do about how well you can study or do a job?' Well, I can safely tell you that it mattered a lot. Not to me so much, but to a lot of other people. Everyone seemed to know who I was. Visiting (male) lecturers knew my name before I even opened my mouth. One Australian consultant took me to one side after his lecture and confided, "I fantasize about being you, Michael. You lucky fella."
Everyone expected me to be unhappy, but I was only unhappy about everyone's expectations. On my first practical placement at a leading teaching hospital, the highly regarded speech and language therapist who was supervising me declared, "Most men in this profession are either highly ambitious, useless or queer. Some are all three. Which one are you?" Had I been quicker (and braver) I would have replied, "I'm only a student, but ask me in three years' time." Instead I went red, but later reported her to a senior member of staff on my course. In 1978 this type of overt sexism and homophobia seemed to be acceptable to many people in the UK National Health Service. Hopefully now it would lead to disciplinary proceedings.
Our student counsellor (male) gave me some really good advice for how to work well with the female students and in my future career (though it applies to working with anyone really)
Avoid having relationships with anyone on your course

Don't join in with 'women's body conversations': discreetly make your excuses and leave

Do your best, but don't try and be 'the best'

Avoid using sexist language and making sexist jokes

Be aware that many women may have experience of men behaving badly at work. Don't be offended if initially they are a bit wary of you

Unfortunately, in the workplace, some women who try to behave like men choose the worst-behaved men as role models (Margaret Thatcher came to power shortly after this conversation and proved that point)

Above all, be respectful. That's what everyone, including yourself, deserves
This was great advice, and something that I took to heart and practiced as best I could. When I first moved to London I shared a room in a student hostel with George, who by chance was a drama student from our college. We got on well, so decided to quit the hostel and moved into a single room in a dilapidated house near the college. I was either very naïve or unaware of other people's perceptions. This was not helped by me regularly announcing to my fellow students whenever I saw George at college, "that's the guy I live with." One day George warned me, 'Michael, stop saying that. It's giving the girls (and some of the guys) on the course the wrong impression. (It seemed that the 'don't have a relationship with anyone on your course' advice either didn't apply to actors or they just ignored it.)
Looking back, maybe some of the girls had a bit of a 'Tom Robinson' idea about me. One weekend George and I threw a party, which was full of actors and speech therapy students. I was sitting at the bottom of the stairs, taking a breather, when one of my student friends threw herself at me. (It was all a bit hazy. Maybe she fell down the stairs?) Anyway, once I had dusted her off (we didn't go in for hoovering in 1978) she asked me if I'd like to have a relationship with her. (Those weren't her exact words, but I'll leave you to imagine how she phrased it.) The student counsellor's wise words echoed in my head, so I said, "I'm sorry Florence, I can't."
"Is it because of George?" Florence countered. She looked crestfallen and I wasn't exactly sure what George had to do with it. So I patted Florence on the knee, untangled myself from her arms and whispered, (rather enigmatically I thought), "I guess it is Florence. I guess it is." It was nothing of the sort. Florence already had a boyfriend (who was bigger than me) and he was standing at the top of the stairs.
As a speech and language therapist I was usually the only man in a room full of women. It wasn't a problem (for me anyway), and as a teacher men were usually in the minority in any staffroom I was in. I have always done my best to abide by my counsellor's advice from way back in 1978. But I can't deny that gender is a big issue in the workplace and a huge issue in early years in the UK, where only 4% of the workforce is male.
Just occasionally I have slipped up. I worked with a teaching assistant who always said, 'Yes Boss' whenever I asked her to do something. One day I was in the staffroom at break and sensed a 'women's body conversation' starting. Instead of leaving discreetly I decided to hover by the sink. As I noisily clunked the teacups I heard my TA colleague announce, "I love The Boss, especially his bum when he wears faded blue jeans and has a red baseball cap sticking out of his back pocket."
I was shocked! I left the room sharpish. This was on Monday, and I must admit I was a bit 'distant' with my TA for a few days. Until Friday. By chance this was designated as 'mufti day' when any child who donated a pound to charity didn't have to wear uniform, or the adults could wear jeans.
As a joke, I wore a pair of faded jeans with a red baseball cap hanging out of my back pocket.
My TA was thrilled: "Michael, you've dressed up just like 'The Boss'. Bruce Springsteen is my idol!!"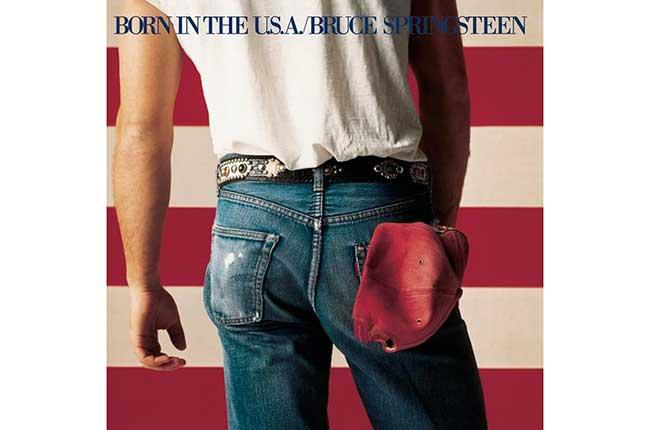 The Boss: You never can tell
Take care out there.
Michael
https://www.youtube.com/watch?v=j4xoxFrRA2Q
Sign up for Michael's weekly blog post by clicking here!
Share this post!
3 responses to "Men behaving properly in traditionally 'female' occupations. With help from Tom Robinson, The Clash and Bruce Springsteen!"